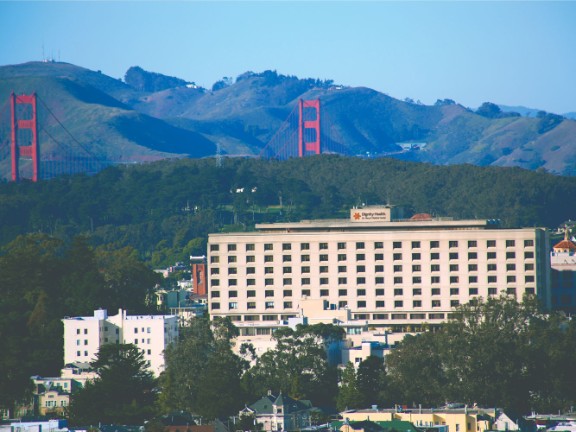 St. Mary's Medical Center
/content/dam/dignity-health/bay-area/images-01/cut-box/SMMC-2023-Box-1.jpg
Address
450 Stanyan St
San Francisco, CA 94117
About St. Mary's Medical Center
St. Mary's Medical Center is a hospital that offers many services, including cancer care, adolescent psychiatric services, and orthopedics. Visit St. Mary's Medical Center located at 450 Stanyan St, San Francisco, CA. This San Francisco hospital is one of the best in California. As part of the Dignity Health network, St. Mary's Medical Center is dedicated to delivering high quality, compassionate care and access to San Francisco and nearby communities.
Services We Offer
Acute Rehabilitation
Acute inpatient rehabilitation is an intensive form of medical rehabilitation in which patients receive several hours of core therapies per day in physical therapy, occupational therapy and/or speech therapy.
Adolescent Psychiatric Services
Adolescent psychiatry is a medical subspecialty that focuses on care of patients who are in the adolescent period of development between childhood and adulthood.
Cancer Care
Cancer treatment involves the use of surgery, radiation, medications and other therapies to cure a cancer, shrink a cancer or stop the progression of a cancer.
Cardiac Care
Cardiac care is a specialized hospital ward designed to treat people with serious or acute heart problems. People who undergo heart surgery also are placed in cardiac care as they recover.
Diabetes Services
Diabetes services include staff who monitor how your diabetes is being managed, help you with any difficulties, and pre-empt any possible future health problems. Health staff will also help you learn how to look after your diabetes and anything else you might need to know about, such as new technologies.
ER and Urgent Care
Emergency room is the department of a hospital responsible for the provision of medical and surgical care to patients arriving at the hospital in need of immediate care. An urgent care center offers the same type of emergency care. It can be located in a hospital or a separate facility.
Gastroenterology Services
Gastroenterology is an area of medicine that focuses on the health of the digestive system, or the gastrointestinal tract.
Imaging/Radiology
Radiology is a branch of medicine that uses imaging technology to diagnose and treat disease. Radiology may be divided into two different areas, diagnostic radiology and interventional radiology.
Laboratory Services
Laboratory services are tests provided by a medical lab that aid in diagnosis and treatment of patients.
Orthopedics
Orthopedics is a branch of medicine that focuses on the care of the musculoskeletal system. This system is made up of muscles and bones, as well as joints, ligaments, and tendons.
Rehab and Therapy Services
Rehab and therapy services include inpatient and outpatient physical therapy, occupational therapy, and speech-language pathology services. These services are provided to people who are recovering from an injury or illness or have a chronic health condition or disability.
SFO Airport Medical Clinic
The SFO Airport Medical Clinic is a facility that is part of the San Francisco International Airport. The clinic provides urgent care, immigration physical, occupational health services, and travel medication.
Sister Mary Philippa Health Clinic
The Sister Mary Philippa Health Center is an outpatient facility located in San Francisco, California, that offers a variety of medical services, such as adult primary care, social services, nursing advice, translation services, and HIV/AIDS care.
Spine Center
A spine center is a facility that is designed to provide spine care to manage spinal disorders caused by injury, infection, degenerative disease, blockage of the blood supply, or compression. This care includes medication, pain management, physical therapy, and surgery when required.
Stroke Center
A stroke center is a facility that is dedicated to the diagnosis and treatment of strokes. This includes the initial treatment to break up and remove the blood clot and repair the damage, followed by supportive care and rehabilitation that includes physical therapy, occupational therapy, and speech therapy to help the patient regain strength and coordination and relearn skills.
Surgical Services
Surgical services require knowledge of and responsibility for the preoperative, operative, and postoperative management of patients with a broad spectrum of diseases.
Total Joint Center
The Total Joint Center is part of St. Mary's Medical Center in San Francisco. This center offers advanced diagnosis and treatment for diseases and disorders of the joints, including knee and hip joint replacement, sports injury procedures, and surgery of the shoulder, elbow, wrist, hand, ankle, and foot.
USF Health Services
University of South Florida (USF) Health Services has the physicians, staff, and equipment to provide diagnoses and treatment for a complete range of specialties, such as infectious diseases, breast health, autoimmune disorders, cardiovascular health, and gastroenterology.
Women's Health
Women's health focuses on the treatment and diagnosis of diseases and conditions that affect a woman's physical and mental well-being.
Care when you need it
With clinics throughout California, a Dignity Health Medical Foundation physician is right around the corner, waiting to assist you along your wellness journey.
Frequently asked questions