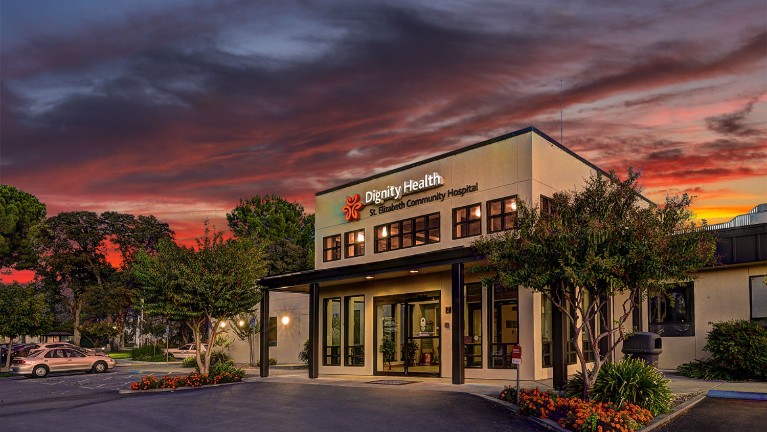 St. Elizabeth Community Hospital
/content/dam/locationsdignityhealthorg/en/yext/s1cQRY3BJtRv-s8_vcoNo1jzi9dEWxt82fm8KURTnNk.jpg
Address
2550 Sister Mary Columba Dr
Red Bluff, CA 96080
About St. Elizabeth Community Hospital
St. Elizabeth Community Hospital is a hospital that offers many services, including orthopedics, family birth center, and . Visit St. Elizabeth Community Hospital located at 2550 Sister Mary Columba Dr, Red Bluff, CA. This Red Bluff hospital is one of the best in California. As part of the Dignity Health network, St. Elizabeth Community Hospital is dedicated to delivering high quality, compassionate care and access to Red Bluff and nearby communities.
Comprehensive services offered at St. Elizabeth Community Hospital
Your time is important. When you're with our care team, we want you to get the most out of your visit. Our multidisciplinary team of physicians is ready to serve when you need us most. With a combination of expert knowledge, compassionate care, and personalized treatment plans, you can count on us to work for you.
Cancer Care
Cancer treatment involves the use of surgery, radiation, medications and other therapies to cure a cancer, shrink a cancer or stop the progression of a cancer.
Emergency
Emergency is a medical specialty concerned with the care and treatment of acutely ill or injured patients who need immediate medical attention.
Family Birth Center
A birth center is a healthcare facility for childbirth where care is provided in midwifery and wellness. Family is welcome to participate in the pregnancy, birth, and the postpartum period.
Heart Care
Heart care uses medical technologies to provide a range of cardiology and vascular services to prevent, diagnose & treat heart conditions.
Home Health
Home health is a wide range of health care services that can be given in the home for a medical condition or injury.
Hospice
Hospice care is a kind of care that focuses on the quality of life for people and their families who are experiencing an advanced terminal illness.
Imaging
Imaging is the use of technology to obtain images of inside the body. There are a variety of imaging technologies, such as ultrasound, computerized tomography (CT) scan, and magnetic resonance imaging (MRI).
Laboratory Services
Laboratory services are tests provided by a medical lab that aid in diagnosis and treatment of patients.
Orthopedics
Orthopedics is a branch of medicine that focuses on the care of the musculoskeletal system. This system is made up of muscles and bones, as well as joints, ligaments, and tendons.
Primary Care Clinics
A primary care clinic is a facility at which general or routine healthcare is given by a healthcare provider such as a family doctor or nurse practitioner. This is often the first level of healthcare and the source of continuing care for serious health problems.
Sports Medicine
Sports medicine is a branch of medicine that is focused on the care of athletes and the treatment of sports injuries, which are injuries obtained while engaging in sports or exercise. These injuries can be as minor as a bruise or small cut or they can be more severe, such as a concussion, sprain, strain, fracture, dislocation, or muscle or ligament tear.
Surgery Services
Surgery services are services that provide for the surgical needs of patients for the treatment of injuries, illnesses, and disorders. These services can include general elective surgeries and emergency surgeries using a variety of surgical techniques, such as minimally invasive surgery, open surgery, and robotic-assisted surgery.
Wound Care
Wound care involves every stage of wound management. This includes diagnosing wound type, considering factors that affect wound healing, and the proper treatments for wound management.
Welcome to St. Elizabeth Community Hospital
At St. Elizabeth Community Hospital, we're here to keep you happy, healthy and whole.
Frequently asked questions