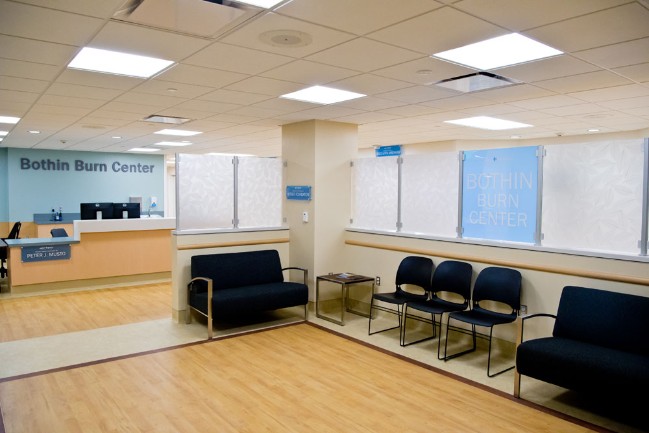 Saint Francis Memorial Hospital Bothin Burn Center
/content/dam/locationsdignityhealthorg/en/yext/dlXGEX6yvNYyhfwUyeSiX8kUmixRl7EKxIi-GiDFMpY.jpg
Address
900 Hyde St
San Francisco, CA 94109
About Saint Francis Memorial Hospital Bothin Burn Center
Saint Francis Memorial Hospital Bothin Burn Center is a medical center that offers many services, including fully equipped operating room, state-of-the-art life support, and monitoring equipment. Visit Saint Francis Memorial Hospital Bothin Burn Center located at 900 Hyde St, San Francisco, CA. This San Francisco medical center is one of the best in California. As part of the Dignity Health network, Saint Francis Memorial Hospital Bothin Burn Center is dedicated to delivering high quality, compassionate care and access to San Francisco and nearby communities.
Comprehensive services offered at Saint Francis Memorial Hospital Bothin Burn Center
Your time is important. When you're with our care team, we want you to get the most out of your visit. Our multidisciplinary team of physicians is ready to serve when you need us most. With a combination of expert knowledge, compassionate care, and personalized treatment plans, you can count on us to work for you.
Fully Equipped Operating Room
A fully equipped operating room will have al the necessary equipment and supplies to ensure your operation goes smoothly. This includes proper lighting, a stretcher with accessories, mattresses, cushions, equipment for cleaning and sterilizing instruments, gel pads and positioners, a surgical table and accessories, and more.
Certified Home Health Aides
Certified home health aides are trained and certified health-care worker who provide assistance to a patient in the home with personal care and light household duties and monitors the patient's condition.
State-Of-The-Art Life Support
State-of-the-art life support technology provides the most advanced life support and monitoring systems available. This level of advanced technology is used in the Dignity Health St. Francis Memorial Hospital Bothin Burn Center.
Largest Burn Unit In Northern California
Monitoring equipment is used to monitor patient health. This equipment provides a constant stream of data on a patient's vital signs, such as heartrate, blood pressure, blood oxygen levels. Stationary equipment can be used in hospital or portable monitoring equipment can be used to monitor a patient's vital signs while they go about daily life.
Ultrasonic Hydrotherapy
Ultrasonic hydrotherapy is a form of therapy that uses hydrosonic waves to help with pain management, stress relief, improved circulation, and the healing of wounds. It is particularly useful in the treatment of burn patients.
16-Bed Unit
Advanced life support is a set of life-saving protocols and skills that extend basic life support to further support the circulation.
Dedicated Burn Center Surgical Suite
The goals of reconstructive burn surgery are to improve both the function and the cosmetic appearance of burn scars. This involves altering scar tissue, with both nonoperative and operative treatment.
Dedicated Pediatric Treatment Rooms/Play Area
Dedicated pediatric treatment rooms provide a positive child-centered experience which helps to reduce the stress and anxiety that children commonly experience in an emergency department.
Nash Family Day Room
The Nash Family Day Room is a room that has been designed specifically for the use of patients of and visitors to the Bothin Burn Center. The room is equipped with a stat-of-the-art sound system and media outlets and is a space in which to relax and unwind.
Outpatient Burn Clinic
An outpatient burn clinic is a part of a hospital that sees patients on an outpatient basis. This allows patients to receive daily burn wound care and patient education services in the hospital without having to be admitted.
Ultrasonic Hydrotherapy Bathing Unit
An ultrasonic hydrotherapy bathing unit is a unit of a hospital or burn treatment center that provides ultrasonic hydrotherapy to burn patients to help with pain management, stress relief, improved circulation, and the healing of wounds.
Care when you need it
With clinics throughout California, a Dignity Health Medical Foundation physician is right around the corner, waiting to assist you along your wellness journey.
Frequently asked questions