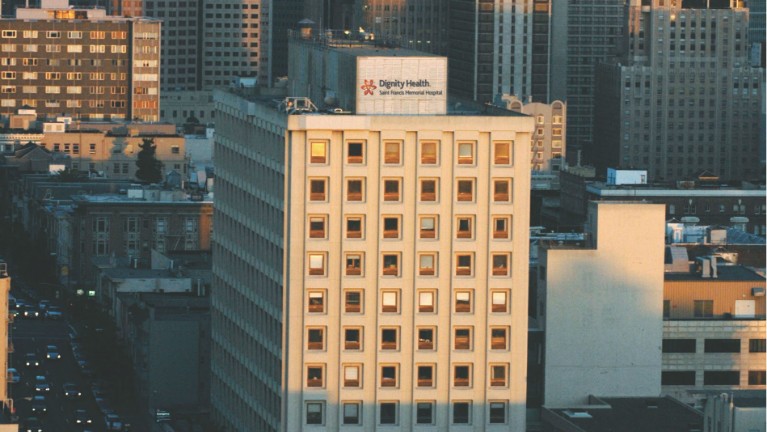 Saint Francis Memorial Hospital
/content/dam/locationsdignityhealthorg/en/yext/AFRSkzsbks-5-RZdmjtb-Cr5JHfgFlWNs_XK-ox1wU4.jpg
Address
900 Hyde St
San Francisco, CA 94109
About Saint Francis Memorial Hospital
Saint Francis Memorial Hospital is a hospital that offers many services, including acute rehabilitation, cancer care, and da vinci robotic surgery. Visit Saint Francis Memorial Hospital located at 900 Hyde St, San Francisco, CA. This San Francisco hospital is one of the best in California. As part of the Dignity Health network, Saint Francis Memorial Hospital is dedicated to delivering high quality, compassionate care and access to San Francisco and nearby communities.
Comprehensive services offered at Saint Francis Memorial Hospital
Your time is important. When you're with our care team, we want you to get the most out of your visit. Our multidisciplinary team of physicians is ready to serve when you need us most. With a combination of expert knowledge, compassionate care, and personalized treatment plans, you can count on us to work for you.
Acute Rehabilitation
Acute inpatient rehabilitation is an intensive form of medical rehabilitation in which patients receive several hours of core therapies per day in physical therapy, occupational therapy and/or speech therapy.
Cancer Care
Cancer treatment involves the use of surgery, radiation, medications and other therapies to cure a cancer, shrink a cancer or stop the progression of a cancer.
Da Vinci Robotic Surgery
Da Vinci robotic surgery is a surgical system that allows surgeons to perform complex minimally invasive surgical procedures with precision and accuracy.
Gastroenterology Services
Gastroenterology is an area of medicine that focuses on the health of the digestive system, or the gastrointestinal tract.
Japanese Medical Services
Japanese medical services are services provided by hospitals and other medical facilities to patients who speak Japanese. This allows these patients to receive treatment in their own language, including annual physical exams, case management, and emergency care.
Multiple Sclerosis Infusion Center
A multiple sclerosis (MS) infusion center is a facility that provides patients with infusion therapy (medication given via a needle or IV) to help slow the progression of the disease and reduce the frequency and severity of flare-ups.
Palliative Care
Palliative care, also known as end-of-life care, is care that is provided to a patient with a terminal illness. This care is designed to reduce suffering and optimize the patient's quality of life by managing pain and symptoms.
Stroke Care
Stroke care involves initial treatment to break up and remove the blood clot and repair of the damage, followed by supportive care and rehabilitation that includes physical therapy, occupational therapy, and speech therapy to help the patient regain strength and coordination and relearn skills.
Behavioral Health
Behavioral health describes the connection between the health and well-being of the body and the mind.
Cardiac & Neurologic Diagnostics
Cardiovascular diagnostic and screening tests provide information about the electrical activity of the heart, heartbeat rhythm, how well blood is pumping through the heart's chambers, valves, and through the coronary arteries. A neurological examination assesses motor and sensory skills, hearing and speech, vision, coordination, and balance. It may also test mental status, mood, and behavior.
ER and Urgent Care
Emergency room is the department of a hospital responsible for the provision of medical and surgical care to patients arriving at the hospital in need of immediate care. An urgent care center offers the same type of emergency care. It can be located in a hospital or a separate facility.
Hyperbaric Oxygen Therapy
Hyperbaric oxygen therapy is a type of treatment used to speed up healing of carbon monoxide poisoning, gangrene, stubborn wounds, and infections in which tissues are starved for oxygen.
Laboratory Services
Laboratory services are tests provided by a medical lab that aid in diagnosis and treatment of patients.
Occupational Health
Occupational health is a multidisciplinary branch of healthcare that is focused on the health and safety of employees in the workplace. The primary focus of occupational health is the prevention on injury and the education of employees.
Center for Pain Management
Centers for pain management health care facilities focus on the diagnosis and management of chronic pain.
Pulmonary Function & Rehabilitation
Pulmonary function can be improved and symptoms reduced through the use of pulmonary rehabilitation. This is useful in cases of chronic lung disease. It includes health education, exercise training, and breathing techniques.
Bothin Burn Center
A burn center or burn unit specializes in the treatment of burn wounds. Burn centers are often used for the treatment and recovery of patients with more severe burns.
Center for Sports Medicine
Centers for sports medicine specialize in the treatment and prevention of injuries and illness related to exercise, fitness and sports.
Foot and Ankle Care
Foot and ankle care specializes in the treatment of complex conditions related to the lower extremities.
Imaging/Radiology
Radiology is a branch of medicine that uses imaging technology to diagnose and treat disease. Radiology may be divided into two different areas, diagnostic radiology and interventional radiology.
Mammography
Mammography is when X-rays are taken of a woman's breasts. It is a diagnostic screening procedure that helps doctors with the early detection of breast cancer so that early intervention can reduce a woman's risk of serious complications.
Outpatient Rehab and Therapy Services
Outpatient physical therapy and rehabilitation services make it possible for people to access physical therapy and rehabilitation services without the need to be admitted to a hospital. Outpatient physical therapy can be offered by a clinic located in the hospital or a separate facility.
Saint Francis Orthopedic Institute
The St. Francis Orthopedic Institute is a nationally recognized facility that is dedicated to the diagnosis and treatment of orthopedic conditions, such as arthritis of the hip and knee, joint replacements, injuries to the hands and wrists, osteoporosis, and fractures and trauma.
Want to see a doctor?
Look for a doctor near San Francisco, CA and schedule an appointment.
Frequently asked questions