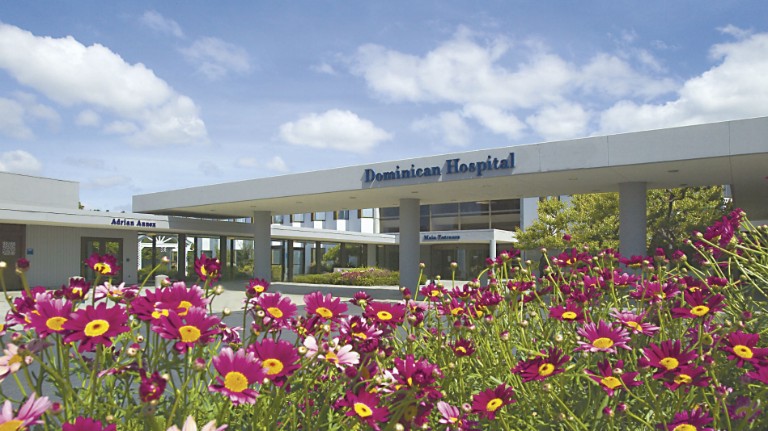 Dominican Hospital Cardiology Department
/content/dam/locationsdignityhealthorg/en/yext/OARFJP0x2pxMvC1h0RguJjLYNIByRU4_bpfS-9Uh7ok.jpg
Address
1555 Soquel Dr
Santa Cruz, CA 95065
About Dominican Hospital Cardiology Department
Dominican Hospital Cardiology Department is a cardiology center that offers many services, including cardiac rehabilitation, emergency diagnostics, and interventional heart procedures. Visit Dominican Hospital Cardiology Department located at 1555 Soquel Dr, Santa Cruz, CA. This Santa Cruz cardiology center is one of the best in California. As part of the Dignity Health network, Dominican Hospital Cardiology Department is dedicated to delivering high quality, compassionate care and access to Santa Cruz and nearby communities.
Comprehensive services offered at Dominican Hospital Cardiology Department
Your time is important. When you're with our care team, we want you to get the most out of your visit. Our multidisciplinary team of physicians is ready to serve when you need us most. With a combination of expert knowledge, compassionate care, and personalized treatment plans, you can count on us to work for you.
Cardiac Rehabilitation
Cardiac rehabilitation often involves exercise training, emotional support and education about lifestyle changes to reduce your heart disease risk.
Dare To C.A.R.E.
Dare To C.A.R.E. is a nation-wide organization that runs close to 300 local service agencies. Food banks, emergency kitchens, and shelters help distribute food to local communities, with the goal of preventing malnourishment and help people live active, healthy lives.
Emergency Diagnostics
Emergency diagnostics consists of diagnostic tests and procedures performed in an emergency setting to help diagnose a condition or disease. This may include tests such as diagnostic imaging and blood work.
Interventional Heart Procedures
The most common interventional cardiology procedure, catheterization, involves the insertion of a sheath into the groin or wrist artery and passing a catheter to the heart to open a blocked artery with balloon (angioplasty) or a stent.
Minimally Invasive Procedures
Minimally invasive surgery is a surgical procedure that is performed using tiny instruments through a small incision, rather than through a larger opening. This form of surgery offers the same benefits of open surgery, but results in a quicker operation, less pain, and a shorter healing time.
Peripherally Inserted Heart Valves (TAVR)
Peripherally inserted heart valves (TAVR) is a minimally invasive procedure that involves the use of a catheter to facilitate the placement of a new heart valve inside the old valve, rather than removing the old valve.
Pacemaker/Defibrillator Implants
Pacemaker and defibrillator implants are small electronic devices that are implanted in the chest, typically just below the collarbone, or in the abdomen. A pacemaker can regulate the heartbeat when there are electrical issues with the heart. A defibrillator can monitor heart rhythms and deliver a shock to the heart when it detects a dangerous heart rhythm.
Patient Navigator
A patient navigator is a healthcare professional who is available to work with a patient and guide them through the healthcare system. this will help the patient overcome obstacles to care and ensure they receive the treatment they require.
Peripheral Procedures
Peripheral procedures include endovascular and surgical procedures that are focused on the treatment of peripheral artery disease, which the narrowing of one or more peripheral arteries. The most common treatment is angioplasty, achieved with the placement of a stent to widen the affected artery.
Aortic Stenting
An aortic stent is a metal skeleton inside a fabric graft. A graft works by exerting pressure against the portions of the artery above and below the aneurysm to cut off circulation to the aneurysm.
Peripheral Stenting/Repair
Peripheral stenting to repair a peripheral artery is called angioplasty with a stent. This is the most common procedure that involves the insertion of a catheter in a vein in the leg that is fed to the heart to put a stent in place. This stent is used to open up blood vessels that are narrowed due to plaque deposits
Rhythm Control Management
Rhythm control management is used in patients who have arterial fibrillation. Rhythm control is accomplished with the use of a medication that maintains a normal sinus rhythm in the heart. This medication can come with side effects that heart monitoring while taking them is necessary.
Care when you need it
With clinics throughout California, a Dignity Health Medical Foundation physician is right around the corner, waiting to assist you along your wellness journey.
Frequently asked questions