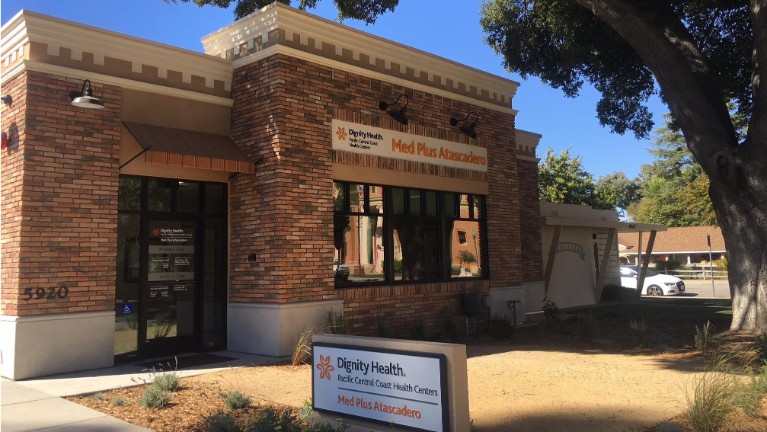 Dignity Health Urgent Care Atascadero
/content/dam/locationsdignityhealthorg/en/yext/W9Mt7yVVVrZBsiqhC6u3MjzhKrVbgN6upgqqcKtXCoU.jpg
Address
5920 W Mall
Atascadero, CA 93422
About Dignity Health Urgent Care Atascadero
Dignity Health Urgent Care Atascadero is a quick, convenient alternative to the emergency room for urgent medical needs that are not life-threatening. Our team of doctors, nurses, and other medical professionals can take care of coughs, colds, allergies, fevers, sinus infections, burns, lacerations, sprains, infections, fractures, sports and DOT physicals, vaccinations, and more. Lab and x-ray services are also available on site. We are open evenings and on Saturday. No appointment is necessary, walk-ins are welcome. Patients of all ages are welcome, including kids and most insurance plans are accepted. We are located at 5920 W Mall in Atascadero, near City Hall.
Services We Offer
Walk-in Care
Walk-in care is any healthcare provider that provides care without an appointment and were originally designed to offer healthcare to those without insurance.
X-Rays
X-rays are the most frequently used form of imaging to see inside the human body. It uses a focused beam and a special detector to obtain images of body anatomy.
DMV Physicals
DMV physicals are checkups that are required for commercial vehicle drivers. These exams make sure the person is able to meet the physical requirements of the job.
Occupational Medicine
Occupational medicine, also known as occupational health, is a multidisciplinary branch of healthcare that is focused on the health and safety of employees in the workplace. The primary focus of occupational health is the prevention on injury and the education of employees.
Want to see a doctor?
Look for a primary care physician in the Pacific Central Coast Health Centers (PHC) network and schedule an appointment.
Frequently asked questions