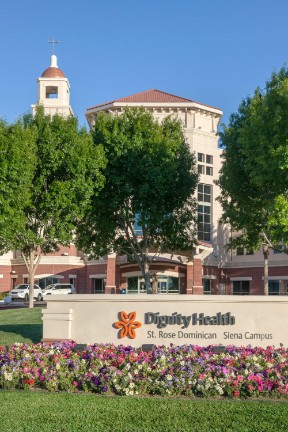 Dignity Health - St. Rose Dominican Hospital, Siena Campus - Henderson, NV
/content/dam/locationsdignityhealthorg/en/yext/1CDHvbW8G5ROEzWaCICxzd2RKlhAs8r-uRwFfZeFXLo.jpg
Address
3001 St Rose Pkwy
Henderson, NV 89052
About Dignity Health - St. Rose Dominican Hospital, Siena Campus - Henderson, NV
Dignity Health - St. Rose Dominican Hospital, Siena Campus - Henderson, NV is dedicated to delivering high quality, compassionate care to Henderson and nearby communities. Visit us at 3001 St Rose Pkwy or call (702) 616-5000 for more information.
Comprehensive services offered at Dignity Health - St. Rose Dominican Hospital, Siena Campus - Henderson, NV
Your time is important. When you're with our care team, we want you to get the most out of your visit. Our multidisciplinary team of physicians is ready to serve when you need us most. With a combination of expert knowledge, compassionate care, and personalized treatment plans, you can count on us to work for you.
Cardiology
Cardiology is a branch of medicine that specializes in diagnosing and treating diseases of the heart, blood vessels, and circulatory system.
Electrophysiology
Electrophysiology (EP) study is a test performed to check your heart's electrical system and is used to diagnose abnormal heartbeats.
Birth Center Tours
A birth center is a diagnostic and treatment center organized to provide care to low-risk patients during pregnancy, labor and delivery.
Chapel and Chaplains
A hospital chaplain offers spiritual guidance to patients and their families. Chaplains in hospitals and medical centers use the insights and principles of psychology, religion, spirituality, and theology.
Chest Pain Center
Chest pain centers specialize in people dealing with symptoms of a heart attack or other chest related problems.
Children's Emergency Room
Pediatric emergency care is a specialty in the care of youth who are acutely ill or injured. A pediatric emergency physician is trained to care for problems that require immediate medical help.
Community Outreach Programs
Community outreach refers to efforts that connect an organization's ideas or practices to the public and takes on an educational component that engages the community.
Da Vinci Surgical System
Da Vinci robotic surgery is a surgical system that allows surgeons to perform complex minimally invasive surgical procedures with precision and accuracy.
Emergency Department
Emergency departments are the part of a hospital responsible for the provision of medical and surgical care to patients arriving at the hospital in need of immediate care.
Full Range of Rehabilitative Services
Facilities that offer a full range of rehabilitation services cover physical, occupational, and speech therapy for a wide range of issues. Whether you are recovering from an injury, surgery, or illness or you have a physical disability, rehabilitation services can help you reach as high a level of independent living as possible.
Full Range of Surgical Services
Facilities that offer a full range of surgical services will be able to help you in your time of need. With a focus on general surgeries, as well as cardiovascular, urology, ophthalmology, gynecology, thoracic, orthopedic gastrointestinal, and endoscopic surgeries, you will have access to preadmissions, pre-operative and post-operative care, and anesthesia services.
Home Health Services
Home health service is a wide range of health care services that can be given in the home for a medical condition or injury.
Hybrid OR
A hybrid OR is an operating room combines the traditional operating room with a multifunctional surgical table and imaging equipment. The goal of such an OR is to make it possible to diagnose and treat a condition in the same location in a single appointment.
Intensive Care Unit
The intensive care unit (ICU) is a department in a hospital that handles the care of critically ill patients who have suffered major trauma or respiratory failure or who require complex surgeries or organ transplants. The care provided in the ICU includes close supervision, specialized equipment, life and breathing support, and a higher staff to patient ratio.
Joint Replacement Center
A joint replacement center offers a surgical procedure to partially or completely replace a joint that is severely worn or damaged with an artificial joint. This procedure is typically performed by an orthopedic surgeon.
Level III Neonatal Intensive Care Unit (NICU)
A level III neonatal intensive care unit (NICU) is a special care nursery that is designed and equipped to care for newborns that are born prior to 32 weeks of gestational age or who are otherwise very small or very sick. There is a wide range on onsite staff, including neonatal nurses, neonatologists, and respiratory therapists to provide 24-hour care.
Level III Trauma Center
A level III trauma center is designed and equipped to provide injured patients with prompt assessment and treatment, such as surgery, resuscitation, intensive care, and stabilization, as well as emergency operations as needed.
Neuro-Interventional Radiology
Neurointerventional radiology uses minimally invasive technologies to treat vascular conditions involving the central nervous system.
Neurosurgery
Neurosurgery is a medical specialty that is focused on the surgical treatment of neurological disorders that affect the brain, spinal cord, cerebrovascular system, and central and peripheral nervous system.
Obstetrical Services (Birth Center)
Obstetric services offered in a birth center are designed to provide a woman and her baby medical care through pregnancy and childbirth. This includes all aspects of prenatal care, assisting with labor and delivery, and providing care to the mother and baby in the hours after childbirth.
Baby Friendly
Baby-friendly means that a maternity facility has successfully implemented the ten steps to successful breastfeeding, which include providing appropriate education to enable families to make informed decisions about infant feeding, encouraging mothers to hold their babies skin-to-skin immediately following birth, and offering expert lactation support throughout and beyond the hospital stay.
Oncology
Oncology is the branch of medicine that is dedicated to the prevention, diagnosis, and treatment of cancer. An oncologist is a doctor who specializes in oncology. There are three major areas of oncology, including medical, radiation, and surgery.
On-Site Laboratory Services
On-site laboratory services are services offered by a lab that is located in a hospital, clinic, or other medical facility, rather than at a different location. This allows samples to be tested and the results to be available quickly, minimizing a patient's wait time for the results and treatment and reducing costs.
Outpatient Physical Therapy Services
Outpatient physical therapy services make it possible for people to access physical therapy without the need to be admitted to a hospital. Outpatient physical therapy can be offered by a clinic located in the hospital or a separate facility.
Outpatient Surgical Services
Outpatient surgery, also known as day surgery, is performed in a hospital, specialized outpatient facility, or your doctor's office. This type of surgery does not require an overnight stay in the hospital.
Palliative Care Services
Palliative care services, also known as end-of-life care services, are services that are provided to a patient with a terminal illness. These services are designed to reduce suffering and optimize the patient's quality of life by managing pain and symptoms.
Pediatric Unit With Pediatric ICU
Pediatric intensive care is a unit in a hospital (PICU) that is dedicated to the care of critically ill or injured infants, children, and adolescents up to the age of 18. This care can include interventions such as IV fluids and medications , breathing support, and extensive surgery
Radiology
Radiology is a branch of medicine that uses imaging technology to diagnose and treat disease. Radiology may be divided into two different areas, diagnostic radiology and interventional radiology.
Respiratory Therapy
Respiratory therapy is performed by a respiratory therapist, who care for people who have chronic lung conditions, such as asthma, emphysema, or bronchitis. Respiratory therapy can include the delivery of medications to the lungs and breathing therapy.
Stroke Program
A stroke program is a program designed to deliver the highest quality of care to people who have suffered a stroke. This care includes the prevention, diagnosis, and treatment of stroke and specialized inpatient and outpatient rehabilitation services for patients recovering from a stroke.
Care when you need it
With clinics throughout Nevada, a Dignity Health Medical Foundation physician is right around the corner, waiting to assist you along your wellness journey.
Frequently asked questions