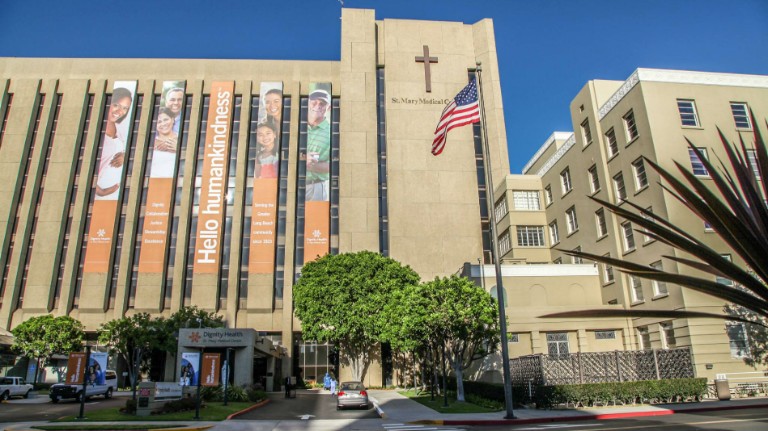 Dignity Health - St. Mary Medical Center
/content/dam/locationsdignityhealthorg/en/yext/ITE1fkhvdleLW92Cy8k20O0LQZHefarK4x-kOf2pAsI.jpg
Address
1050 Linden Ave
Long Beach, CA 90813
About Dignity Health - St. Mary Medical Center
Dignity Health - St. Mary Medical Center is a hospital that offers many services, including breast imaging center, care center, and cardiac and vascular center. Visit Dignity Health - St. Mary Medical Center located at 1050 Linden Ave, Long Beach, CA. This Long Beach hospital is one of the best in California. As part of the Dignity Health network, Dignity Health - St. Mary Medical Center is dedicated to delivering high quality, compassionate care and access to Long Beach and nearby communities.
Services We Offer
Your time is important. When you're with our care team, we want you to get the most out of your visit. Our multidisciplinary team of physicians is ready to serve when you need us most. With a combination of expert knowledge, compassionate care, and personalized treatment plans, you can count on us to work for you.
Breast Imaging Center
Breast imaging center services include screenings and treatments for breast cancer and other breast-related conditions such as fibroids, cysts, noncancerous tumors, and infections.
Care Center
Care centers are facilities that provide rehabilitative, restorative, and ongoing skilled nursing care to patients in need of assistance with activities of daily living.
Laboratory
A laboratory is a facility where the medical testing of patient samples is carried out. These are medical specimens such as blood, urine, and stool samples and samples of tissue for biopsy. The tests are run to obtain health information on the patient.
Mobile Clinic
A mobile clinic is a medical clinic that is operated out of a van or other type of vehicle. It provides a wide range of clinical services, such as immunizations, oral healthcare, and laboratory services, to vulnerable, isolated, and newly displaced populations.
Palliative Care
Palliative care, also known as end-of-life care, is care that is provided to a patient with a terminal illness. This care is designed to reduce suffering and optimize the patient's quality of life by managing pain and symptoms.
Rehabilitation Services
Rehabilitation and therapy services include inpatient and outpatient physical therapy, occupational therapy, and speech-language pathology services. These services are provided to people who are recovering from an injury or illness or have a chronic health condition or disability.
Surgical Services
Surgical services require knowledge of and responsibility for the preoperative, operative, and postoperative management of patients with a broad spectrum of diseases.
Cancer Care
Cancer treatment involves the use of surgery, radiation, medications and other therapies to cure a cancer, shrink a cancer or stop the progression of a cancer.
Emergency Medicine
Emergency medicine is a medical specialty concerned with the care and treatment of acutely ill or injured patients who need immediate medical attention.
Maternal Care
Maternal care involves the care of a mother during pregnancy, childbirth, and the postnatal time period. The care a mother receives will depend on the level of risk the pregnancy poses to her and the baby.
Orthopedics
Orthopedics is a branch of medicine that focuses on the care of the musculoskeletal system. This system is made up of muscles and bones, as well as joints, ligaments, and tendons.
Pediatric Care
Pediatric care is a branch of healthcare that is focused on the prevention, diagnosis, and treatment of diseases, disorders, and injuries of infants, children, and adolescents up to the age of 18.
Retail Pharmacy
A retail pharmacy is a retail location that sells over-the-counter and prescription medications, as well as other health equipment, cosmetics, groceries, and other items. There is also a pharmacist on-staff who can help customers with their health-related questions.
Surgical Weight Loss
Surgical weight loss, also known as bariatric surgery, is the use of a minimally invasive surgical procedure to help a person who is morbidly obese lose weight. Common weight loss surgeries include gastric bypass, adjustable gastric band, and sleeve gastrectomy.
Cardiac and Vascular Center
In cardiac and vascular centers, cardiologists specialize in treating the veins and arteries outside of the heart.
Gastroenterology
Gastroenterology is an area of medicine that focuses on the health of the digestive system, or the gastrointestinal tract.
Outpatient Clinics
Outpatient clinics are a part of a hospital and see patients on an outpatient basis. This allows patients to receive preventative, diagnostic, and treatment services in the hospital without having to be admitted.
Radiology
Radiology is a branch of medicine that uses imaging technology to diagnose and treat disease. Radiology may be divided into two different areas, diagnostic radiology and interventional radiology.
Stroke Care
Stroke care involves initial treatment to break up and remove the blood clot and repair of the damage, followed by supportive care and rehabilitation that includes physical therapy, occupational therapy, and speech therapy to help the patient regain strength and coordination and relearn skills.
Women's Health Wellness
Women's health wellness focuses on the treatment and diagnosis of diseases and conditions that affect a woman's physical and mental well-being.
24-Hour Emergency Medicine
Emergency medicine is the medical specialty dedicated to the diagnosis and treatment of unforeseen illness or injury.
Stemi Heart Attack Center
The STEMI Heart Attack Center at St. Joseph's Medical Center is a facility dedicated to the diagnosis and treatment of patients who have experienced a ST-Elevation Myocardial Infarction (STEMI), which is an incredibly serious form of heart attack that is caused by the complete and prolonged blockage of one of the major arteries of the heart.
Level II Trauma Center
A level II trauma center is a facility that is designed and equipped to handle the definitive care of all injured patients. This tertiary care facility provides 24-hour availability of general surgeons and specialists in a variety of disciplines, such as internal medicine, orthopedic surgery, neurosurgery, radiology, and emergency medicine.
Pediatric Emergency Care
Pediatric emergency care is care for medical emergencies that occur in infants, children, and adolescents up to the age of 18. These emergencies can be due to illness or injuries that result in symptoms such as a high fever dehydration, persistent vomiting and diarrhea, and difficulty breathing.
Online ER Waiting Service
An online ER waiting service is an online tool patients can use to check in with their local emergency room and choose a preferred time to visit from the comfort of their home. They can then go to the emergency room once they have reached their estimated arrival time.
Emergency Care 24/7
Let us know you're coming. Select your estimated arrival time and wait at home until your scheduled arrival time.
Frequently asked questions