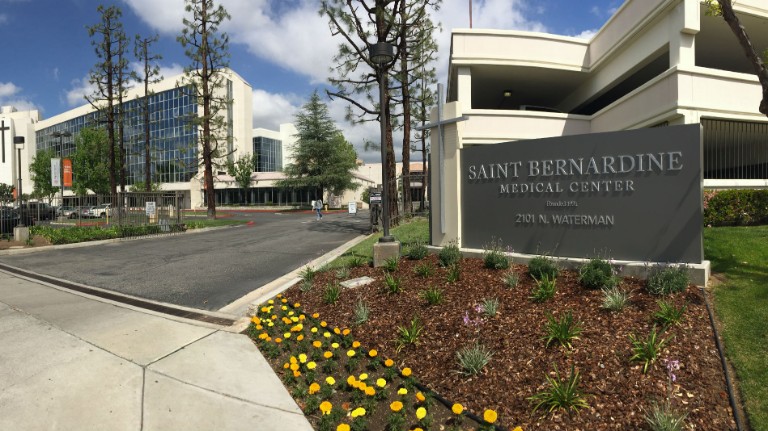 Dignity Health - St. Bernardine Medical Center
/content/dam/locationsdignityhealthorg/en/yext/yftjfOJmahaC5_P6WrUlYO1nVlknjgTiYcrUbj_QcEQ.jpg
Address
2101 N Waterman Ave
San Bernardino, CA 92404
About Dignity Health - St. Bernardine Medical Center
Our Dignity Health - St. Bernardine Medical Center is dedicated to delivering high quality, compassionate care to 2101 N Waterman Ave, San Bernardino, CA 92404 and nearby communities. Visit us at or call (909) 883-8711 for more information.
Comprehensive services offered at Dignity Health - St. Bernardine Medical Center
Your time is important. When you're with our care team, we want you to get the most out of your visit. Our multidisciplinary team of physicians is ready to serve when you need us most. With a combination of expert knowledge, compassionate care, and personalized treatment plans, you can count on us to work for you.
Baby & Family Services
Baby & Family Services is a birth center that is part of the San Bernardine Medical Center. It offers families a variety of services, such as hospital tours, prenatal and parenting classes, and a neonatal intensive care unit (NICU).
Cancer Services
Cancer services include the use of surgery, radiation, medications and other therapies to cure a cancer, shrink a cancer or stop the progression of a cancer.
Center for Imaging
Imaging centers provide x-rays, computed tomography, magnetic resonance imaging, positron emission tomography, fluoroscopy, radiography, ultrasounds, and mammography.
Da Vinci Surgery
Da Vinci robotic surgery is a surgical system that allows surgeons to perform complex minimally invasive surgical procedures with precision and accuracy.
Emergency Services
Emergency room service is the department of a hospital responsible for the provision of medical and surgical care to patients arriving at the hospital in need of immediate care.
Inland Empire Heart & Vascular Institute
The Inland Empire Heart & Vascular Institute is home to one to the largest heart programs in Southern California. The institute has cardiac specialists onsite who have the experience and skills necessary to provide a full range of medical care for the heart.
Neurological Services
Neurological services include all services related to neurological health. This includes the assessment, diagnosis, and treatment of neurological disorders, as well as neurological rehabilitation to help improve a patient's functionality and wellbeing.
Orthopedics
Orthopedics is a branch of medicine that focuses on the care of the musculoskeletal system. This system is made up of muscles and bones, as well as joints, ligaments, and tendons.
Stroke Care
Stroke care involves initial treatment to break up and remove the blood clot and repair of the damage, followed by supportive care and rehabilitation that includes physical therapy, occupational therapy, and speech therapy to help the patient regain strength and coordination and relearn skills.
Surgical Weight Loss Services
Surgical weight loss, also known as bariatric surgery, is the use of a minimally invasive surgical procedure to help a person who is morbidly obese lose weight. Common weight loss surgeries include gastric bypass, adjustable gastric band, and sleeve gastrectomy.
Urgent Care Centers
Urgent care clinics are set up to provide medical care for injuries, sicknesses, and ailments that require immediate attention, but are not life-threatening.
Wound Healing Center
Wound healing centers specialize in wound healing which is a complex and dynamic process of replacing devitalized and missing cellular structures and tissue layers.
Emergency Care 24/7
Let us know you're coming. Select your estimated arrival time and wait at home until your scheduled arrival time.
Frequently asked questions