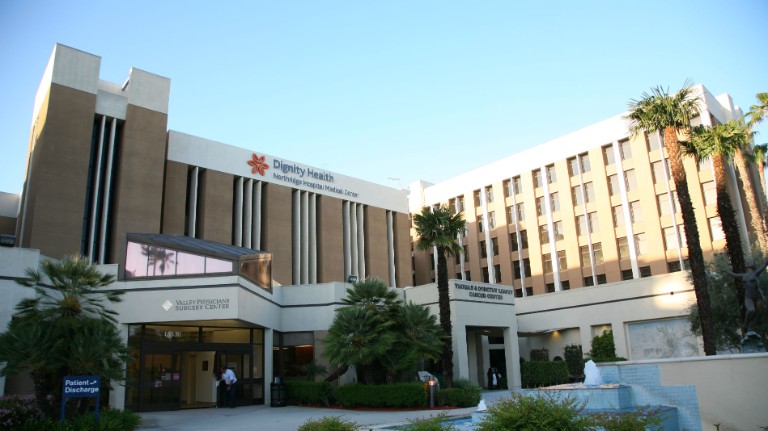 Dignity Health - Northridge Hospital Medical Center
/content/dam/locationsdignityhealthorg/en/yext/2dYXMKr899P9URYs2QxAEpsejXcl4A48fsj7gm5-i-E.jpg
Address
18300 Roscoe Blvd
Northridge, CA 91325
About Dignity Health - Northridge Hospital Medical Center
Dignity Health - Northridge Hospital Medical Center is a hospital that offers many services, including behavioral health services/crisis line, cancer center, and cardiovascular center. Visit Dignity Health - Northridge Hospital Medical Center located at 18300 Roscoe Blvd, Northridge, CA. This Northridge hospital is one of the best in California. As part of the Dignity Health network, Dignity Health - Northridge Hospital Medical Center is dedicated to delivering high quality, compassionate care and access to Northridge and nearby communities.
Comprehensive services offered at Dignity Health - Northridge Hospital Medical Center
Your time is important. When you're with our care team, we want you to get the most out of your visit. Our multidisciplinary team of physicians is ready to serve when you need us most. With a combination of expert knowledge, compassionate care, and personalized treatment plans, you can count on us to work for you.
Behavioral Health Services/Crisis Line
Behavioral health crisis hotline is a phone number people can call to get immediate emergency telephone counseling.
Cancer Center
Cancer centers carry out laboratory, clinical, and cancer research. While most centers provide care for people with cancer, some only conduct laboratory research.
Cardiovascular Center
Cardiology is the study and treatment of disorders of the heart and the blood vessels. A person with cardiovascular disease may be referred to a cardiovascular center.
Center for Assault Treatment Services
Center for assault treatment services provide compassionate, comprehensive care to victims of domestic and sexual assault and child victims of sexual abuse in a supportive and comforting environment.
Center for Healthier Communities
A center for healthier communities is your community resource for keeping your children healthy and safe. Priorities are injury prevention, oral health, maternal and child health, nutrition and healthy lifestyles, and youth development.
Da Vinci Si Robotic Surgery
Da Vinci robotic surgery is a surgical system that allows surgeons to perform complex minimally invasive surgical procedures with precision and accuracy.
Diagnostic Imaging
Diagnostic imaging allows a doctor to look inside a person's body when determining a medical condition. Various technologies can be used to create pictures of the structures and activities inside the body.
Family Birth Center
A birth center is a healthcare facility for childbirth where care is provided in midwifery and wellness. Family is welcome to participate in the pregnancy, birth, and the postpartum period.
Family Medicine Center
A family medicine center is a medical facility that focuses on overall health and manages common and long-term illnesses in men, women, and children.
Orthopedics
Orthopedics is a branch of medicine that focuses on the care of the musculoskeletal system. This system is made up of muscles and bones, as well as joints, ligaments, and tendons.
Pediatric Medical Center
A pediatric medical center is a facility that is dedicated to delivering pediatric care to infants, children, and adolescents up to the age of 18. This care includes the prevention, diagnosis, and treatment of diseases, disorders, and injuries.
Rehabilitation Medicine
Rehabilitation medicine is a branch of medicine that is focused on restore or enhance functionality and quality of life to people who have physical impairments of the brain, spinal cord, nerves, joints, bones, muscles, ligaments, and tendons due to injury, illness, or disability.
Stroke Center
A stroke center is a facility that is dedicated to the diagnosis and treatment of strokes. This includes the initial treatment to break up and remove the blood clot and repair the damage, followed by supportive care and rehabilitation that includes physical therapy, occupational therapy, and speech therapy to help the patient regain strength and coordination and relearn skills.
Surgical Care Services
Surgical care services are services provided during and after surgery to help reduce the chance of infection and complications related to the surgery and speed recovery. This care includes the administering of the appropriate medications and the right time, pain management, and wound care.
Trauma Center - Pediatric & Adult
A trauma center is a hospital that is dedicated to the treatment of pediatric and adult trauma victims. The trauma center is staffed and equipped to handle trauma victims at a specified level, I, II, III, IV, or V, with level I providing the highest level of care.
Women's Center
Women's center focus on the treatment and diagnosis of diseases and conditions that affect a woman's physical and mental well-being.
Emergency Care 24/7
Let us know you're coming. Select your estimated arrival time and wait at home until your scheduled arrival time.
Frequently asked questions