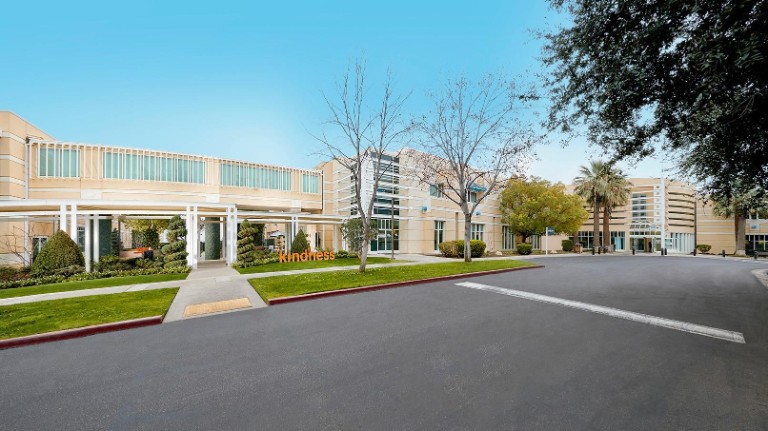 Dignity Health - Mercy Hospital Southwest
/content/dam/locationsdignityhealthorg/en/yext/JclIx_7OWMLyM2XfDw0fTAeYnleunKCTUG7n9DE2fjE.jpg
Address
400 Old River Rd
Bakersfield, CA 93311
About Dignity Health - Mercy Hospital Southwest
Dignity Health - Mercy Hospital Southwest is a hospital that offers many services, including orthopedic, spine and hand center, emergency services, and robotic surgery. Visit Dignity Health - Mercy Hospital Southwest located at 400 Old River Rd, Bakersfield, CA. This Bakersfield hospital is one of the best in California. As part of the Dignity Health network, Dignity Health - Mercy Hospital Southwest is dedicated to delivering high quality, compassionate care and access to Bakersfield and nearby communities.
Emergency Care 24/7
Let us know you're coming. Select your estimated arrival time and wait at home until your scheduled arrival time.
Service We Offer
Birth Center
A birth center is a diagnostic and treatment center organized to provide care to low-risk patients during pregnancy, labor and delivery.
Cancer Care
Cancer treatment involves the use of surgery, radiation, medications and other therapies to cure a cancer, shrink a cancer or stop the progression of a cancer.
Emergency Services
Emergency room service is the department of a hospital responsible for the provision of medical and surgical care to patients arriving at the hospital in need of immediate care.
Home Health
Home health is a wide range of health care services that can be given in the home for a medical condition or injury.
Neurology Services
Neurology services include all services related to neurological health. This includes the assessment, diagnosis, and treatment of neurological disorders, as well as neurological rehabilitation to help improve a patient's functionality and wellbeing.
Orthopedic Care
Orthopedic care involves services that are designed to prevent, diagnose, and treat diseases, disorders, and injuries related to the musculoskeletal system, which includes the bones, joints, muscles, tendons, and ligaments. Examples of conditions under orthopedic care include fractures, sprains, strains, dislocations, arthritis, bursitis, herniated discs, and tendonitis.
Orthopedic Spine and Hand Center
An orthopedic spine and hand center is a facility dedicated to the prevention, diagnosis, and treatment of musculoskeletal diseases, disorders, and injuries of the spine, hands, shoulders, hips, knees, ankles, and feet. Examples of the types of treatments offered include treatment of fractures, cartilage preservation, sports injuries, arthritis, and tendon and nerve repair.
Urology and Stone Center
The urology and stone center specializes in the diagnosis and treatment of urinary tract issues in men and women. Conditions diagnosed and treated include but are not limited to: bladder cancer. enlarged prostate or benign prostatic hyperplasia (BPH), kidney stones, overactive bladder, prostatitis, and testicular cancer.
Surgical Services
Surgical services require knowledge of and responsibility for the preoperative, operative, and postoperative management of patients with a broad spectrum of diseases.
Women's Services
Women's health focuses on the treatment and diagnosis of diseases and conditions that affect a woman's physical and mental well-being.
Wellness and Prevention Center
Wellness and prevention centers offer classes where you can learn about healthy eating, how to monitor blood sugar, manage medications, and how to prevent complications from chronic diseases like diabetes, and more.
Weight Loss Surgery
Most bariatric/weight-loss surgeries today are performed using minimally invasive techniques (laparoscopic surgery). The most common bariatric surgery procedures are gastric bypass, sleeve gastrectomy, adjustable gastric band, and biliopancreatic diversion with duodenal switch.
Robotic Surgery
Robotic surgery, or robot-assisted surgery, allows doctors to perform many types of complex procedures with more precision, flexibility and control.
Frequently asked questions