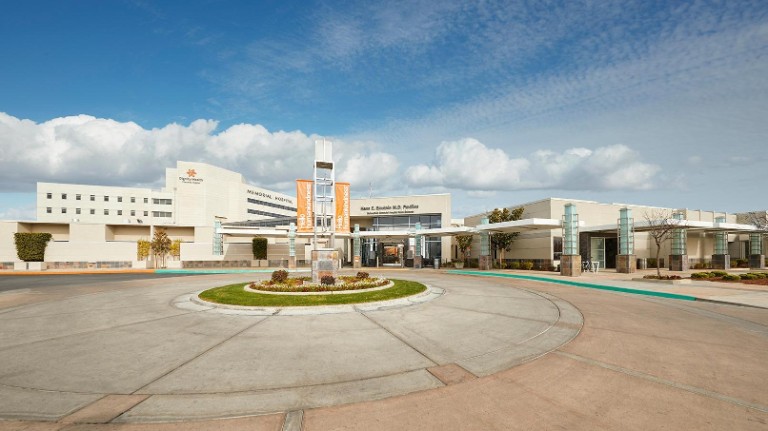 Dignity Health - Memorial Hospital
/content/dam/locationsdignityhealthorg/en/yext/pkOLbSuaP-XBd1qQdT5CWgLEEi_lIIsMUIFT09P-D9c.jpg
Address
420 34th St
Bakersfield, CA 93301
About Dignity Health - Memorial Hospital
Dignity Health - Memorial Hospital is a hospital that offers many services, including orthopedics, surgical services, and cancer care. Visit Dignity Health - Memorial Hospital located at 420 34th St, Bakersfield, CA. This Bakersfield hospital is one of the best in California. As part of the Dignity Health network, Dignity Health - Memorial Hospital is dedicated to delivering high quality, compassionate care and access to Bakersfield and nearby communities.
Emergency Care 24/7
Let us know you're coming. Select your estimated arrival time and wait at home until your scheduled arrival time.
Service We Offer
Diabetes Care
Treatment for diabetes requires keeping close watch over your blood sugar levels to keep them at your goal level set by your doctor. This is achieved via a combination of medications, exercise, and diet. By paying close attention to what and when you eat, you can minimize or avoid rapidly changing blood sugar levels.
Grossman Burn Center
The Grossman burn centers are plastic surgery-based medical centers specializing in the comprehensive treatment of burns.
Cancer Care
Cancer treatment involves the use of surgery, radiation, medications and other therapies to cure a cancer, shrink a cancer or stop the progression of a cancer.
Cardiac Care
Cardiac care is a specialized hospital ward designed to treat people with serious or acute heart problems. People who undergo heart surgery also are placed in cardiac care as they recover.
Wound Care and Hyperbarics
Wound care involves every stage of wound management. This includes diagnosing wound type, considering factors that affect wound healing, and the proper treatments for wound management.
Home Health
Home health is a wide range of health care services that can be given in the home for a medical condition or injury.
Pediatric Services
Pediatric services are services dedicated to providing care focused on the prevention, diagnosis, and treatment of diseases, disorders, and injuries of infants, children, and adolescents up to the age of 18.
Wellness and Prevention Center
Wellness and prevention centers offer classes where you can learn about healthy eating, how to monitor blood sugar, manage medications, and how to prevent complications from chronic diseases like diabetes, and more.
Adult and Pediatric Emergency Service
An adult and pediatric emergency service provides hospital care and transport to patients of all ages with illnesses and injuries which constitute a medical emergency.
Neuroscience
Neuroscience is a multidisciplinary field of study that is concerned with the anatomy, physiology, molecular biology, cytology, and developmental biology of the nervous system. The goal is to develop a deep understanding of the properties of neurons and neural circuits.
Orthopedics
Orthopedics is a branch of medicine that focuses on the care of the musculoskeletal system. This system is made up of muscles and bones, as well as joints, ligaments, and tendons.
Sarvanand Heart and Brain Center
The Sarvanand Heart and Brain Center is a facility that is dedicated to the delivery of exceptional and comprehensive cardiovascular diagnosis and treatment with the goal of improving the heart health of patients.
Women's Health
Women's health focuses on the treatment and diagnosis of diseases and conditions that affect a woman's physical and mental well-being.
Frequently asked questions