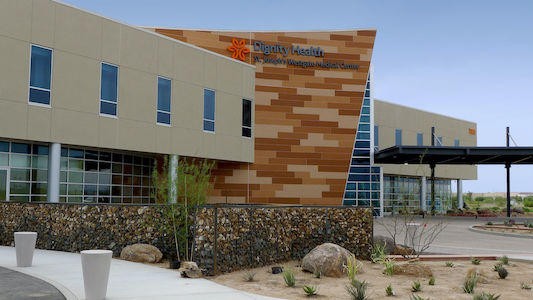 Dignity Health Medical Group Multi-Specialty - Westgate, AZ
/content/dam/locationsdignityhealthorg/en/yext/IYa4MxovFNQhHINcvQ4rT9itxlnCGINa6n4H6njHjW4.jpg
Address
7330 N 99th Ave
Glendale, AZ 85307
About Dignity Health Medical Group Multi-Specialty - Westgate, AZ
Dignity Health Medical Group Multi-Specialty - Westgate, AZ is a medical group that offers many services, including , , and . Visit Dignity Health Medical Group Multi-Specialty - Westgate, AZ located at 7330 N 99th Ave, Glendale, AZ. This Glendale medical group is one of the best in Arizona. As part of the Dignity Health network, Dignity Health Medical Group Multi-Specialty - Westgate, AZ is dedicated to delivering high quality, compassionate care and access to Glendale and nearby communities.
Comprehensive services offered at Dignity Health Medical Group Multi-Specialty - Westgate, AZ
Your time is important. When you're with our care team, we want you to get the most out of your visit. Our multidisciplinary team of physicians is ready to serve when you need us most. With a combination of expert knowledge, compassionate care, and personalized treatment plans, you can count on us to work for you.
Nutrition Counseling
Nutrition counseling is performed by a nutrition consultant or registered dietician, who work with individuals to set health and nutrition goals and create a diet plan that will help them prevent and treat disease and maintain a good level of health.
Social Work
Social work services are provided by a social worker. These services are designed to foster social change, development, empowerment, and cohesion of individuals and communities through direct care, clinical services, and the treatment of mental health issues.
Interventional Radiology
Interventional radiology (IR), uses medical imaging to guide minimally invasive surgical procedures that diagnose, treat, and cure many kinds of conditions.
Plastic and Reconstructive Surgery
Plastic and reconstructive surgery is a procedure that is used to aesthetically or functionally treat areas of the body the body that have been affected by a congenital defect, trauma, or developmental abnormalities.
Radiation Therapy
Radiation therapy, also known as radiotherapy, is the use of high doses of radiation to kill off cancer cells and cause tumors to shrink. In most cases, the radiation used is X-rays, although other types of radiation can be used. Radiation therapy is most often delivered externally, but can also be used internally.
Surgical and Minimally Invasive Services
After a cancer diagnosis, a surgeon will often surgically remove the tumor and nearby affected tissue during an operation. Surgery is used as an effective treatment for many types of cancer today.
Care when you need it
With clinics throughout Arizona, a Dignity Health Medical Foundation physician is right around the corner, waiting to assist you along your wellness journey.
Frequently asked questions