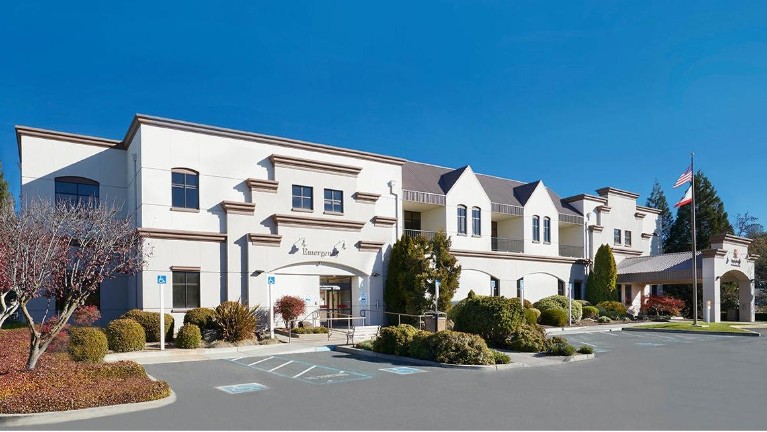 Dignity Health - Mark Twain Medical Center
/content/dam/locationsdignityhealthorg/en/yext/3lULm4CcExc_MyEQaddQQqS8brfsa7F-jx0TU71KmjE.jpg
Address
768 Mountain Ranch Rd
San Andreas, CA 95249
About Dignity Health - Mark Twain Medical Center
Dignity Health - Mark Twain Medical Center is a hospital that offers many services, including diagnostic imaging services, emergency services, and heart care. Visit Dignity Health - Mark Twain Medical Center located at 768 Mountain Ranch Rd, San Andreas, CA. This San Andreas hospital is one of the best in California. As part of the Dignity Health network, Dignity Health - Mark Twain Medical Center is dedicated to delivering high quality, compassionate care and access to San Andreas and nearby communities.
Emergency Care 24/7
Let us know you're coming. Select your estimated arrival time and wait at home until your scheduled arrival time.
Service We Offer
Behavioral Health Services
Behavioral health describes the connection between the health and well-being of the body and the mind.
Cancer Center

Cancer centers carry out laboratory, clinical, and cancer research. While most centers provide care for people with cancer, some only conduct laboratory research.
DEXA Scan
A bone-density test is a way to measure the strength of your bones. The test, called a DEXA scan, is a kind of x-ray. The main reason to have the test is to find and treat serious bone loss.
Diagnostic Imaging Services
Diagnostic imaging allows a doctor to look inside a person's body when determining a medical condition. Various technologies can be used to create pictures of the structures and activities inside the body.
Emergency Services
Emergency room service is the department of a hospital responsible for the provision of medical and surgical care to patients arriving at the hospital in need of immediate care.
Heart Care
Heart care uses medical technologies to provide a range of cardiology and vascular services to prevent, diagnose & treat heart conditions.
Laboratory Services
Laboratory services are tests provided by a medical lab that aid in diagnosis and treatment of patients.
Medical Clinics
Medical clinics are facilities that provide outpatient services and access to a doctor for people who do not have a family doctor. At a medical clinic, you can receive routine and preventative care and treatment when you are sick. There are different types of medical clinics, such as primary care clinics, sexual health clinics, mental health clinics, addiction services clinics, and specialized clinics.
Orthopedics
Orthopedics is a branch of medicine that focuses on the care of the musculoskeletal system. This system is made up of muscles and bones, as well as joints, ligaments, and tendons.
Physical Therapy
Physical therapy, also known as physiotherapy, is a service that teaches patients movements and exercises to improve their strength, flexibility, and range of motion. Physical therapy is used to help people recover physical injury, chronic conditions, and disabilities.
Patient Navigator
Pulmonary function can be improved and symptoms reduced through the use of pulmonary rehabilitation. This is useful in cases of chronic lung disease. It includes health education, exercise training, and breathing techniques.
Pediatrics
Pediatrics is a branch of healthcare that is focused on the prevention, diagnosis, and treatment of diseases, disorders, and injuries of infants, children, and adolescents up to the age of 18.
Pulmonary Rehabilitation
A pulmonary function lab is a facility that is designed to conduct pulmonary function tests that provide a comprehensive evaluation of a patient's respiratory system and indicate the severity of pulmonary impairment.
Specialty Care Centers
Dignity Health operates a number of specialty care centers, including the Mark Twain Heart Center, the Mark Twain Cancer Center, Mark Twain Orthopedic Services, Surgical Specialty Care, and Urology.
Surgical Services
Surgical services require knowledge of and responsibility for the preoperative, operative, and postoperative management of patients with a broad spectrum of diseases.
Telehealth Services
Telehealth services brings highly specialized health care providers and state-of-the-art technology to patients - no matter where they are.
Intensive Care
Intensive care medical treatment in which a patient who is dangerously ill is kept under constant observation, typically in a dedicated department of a hospital.
Frequently asked questions