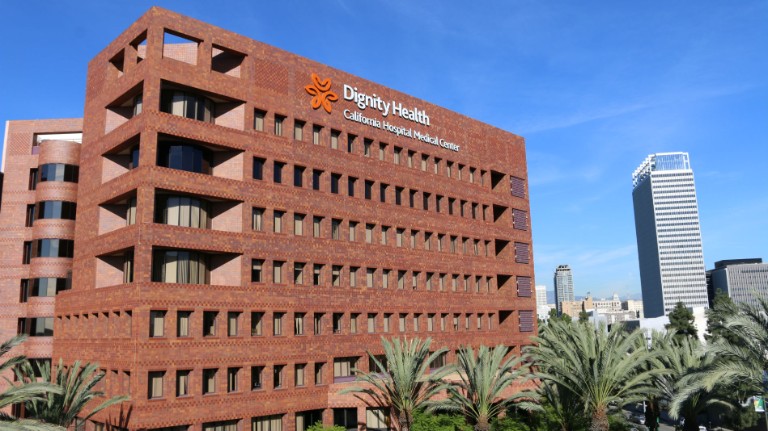 Dignity Health - California Hospital Medical Center
/content/dam/locationsdignityhealthorg/en/yext/i16M3B3JtVuVj1jTzjlR4QMrH_pp-YRjwDQgOHKJpo4.jpg
Address
1401 S Grand Ave
Los Angeles, CA 90015
About Dignity Health - California Hospital Medical Center
Dignity Health - California Hospital Medical Center is a hospital that offers many services, including cancer care, diagnostic imaging, and emergency & trauma services. Visit Dignity Health - California Hospital Medical Center located at 1401 S Grand Ave, Los Angeles, CA. This Los Angeles hospital is one of the best in California. As part of the Dignity Health network, Dignity Health - California Hospital Medical Center is dedicated to delivering high quality, compassionate care and access to Los Angeles and nearby communities.
Services We Offer
Cancer Care
Cancer treatment involves the use of surgery, radiation, medications and other therapies to cure a cancer, shrink a cancer or stop the progression of a cancer.
Diagnostic Imaging
Diagnostic imaging allows a doctor to look inside a person's body when determining a medical condition. Various technologies can be used to create pictures of the structures and activities inside the body.
Emergency & Trauma Services
Emergency & trauma service is a medical specialty concerned with the care and treatment of acutely ill or injured patients who need immediate medical attention.
Heart Care
Heart care uses medical technologies to provide a range of cardiology and vascular services to prevent, diagnose & treat heart conditions.
Intensive Care Unit
The intensive care unit (ICU) is a department in a hospital that handles the care of critically ill patients who have suffered major trauma or respiratory failure or who require complex surgeries or organ transplants. The care provided in the ICU includes close supervision, specialized equipment, life and breathing support, and a higher staff to patient ratio.
Maternity & Neonatal
Maternity and neonatal services are offered to women and their newborn babies. The goal is to provide infant care and help mothers and fathers provide a loving, nurturing, safe environment for their newborn. They have access to services such as a full healthcare team, the most advanced technology, comfortable birthing rooms, and breastfeeding support.
Orthopedics
Orthopedics is a branch of medicine that focuses on the care of the musculoskeletal system. This system is made up of muscles and bones, as well as joints, ligaments, and tendons.
Palliative Care
Palliative care, also known as end-of-life care, is care that is provided to a patient with a terminal illness. This care is designed to reduce suffering and optimize the patient's quality of life by managing pain and symptoms.
Pediatrics
Pediatrics is a branch of healthcare that is focused on the prevention, diagnosis, and treatment of diseases, disorders, and injuries of infants, children, and adolescents up to the age of 18.
Stroke Care
Stroke care involves initial treatment to break up and remove the blood clot and repair of the damage, followed by supportive care and rehabilitation that includes physical therapy, occupational therapy, and speech therapy to help the patient regain strength and coordination and relearn skills.
Obstetrics
Obstetrics is the medical specialty of providing a woman and her baby medical care through pregnancy and childbirth. This includes all aspects of prenatal care, assisting with labor and delivery, and providing care to the mother and baby in the hours after childbirth.
Surgery
Surgery is the branch of medical practice that treats injuries, diseases, and deformities by the physical removal, repair, or readjustment of organs and tissues.
Women's Health
Women's health focuses on the treatment and diagnosis of diseases and conditions that affect a woman's physical and mental well-being.
Emergency Care 24/7
Let us know you're coming. Select your estimated arrival time and wait at home until your scheduled arrival time.
Frequently asked questions